---
iPhone 6 Plus is the Best Tablet I've Ever Used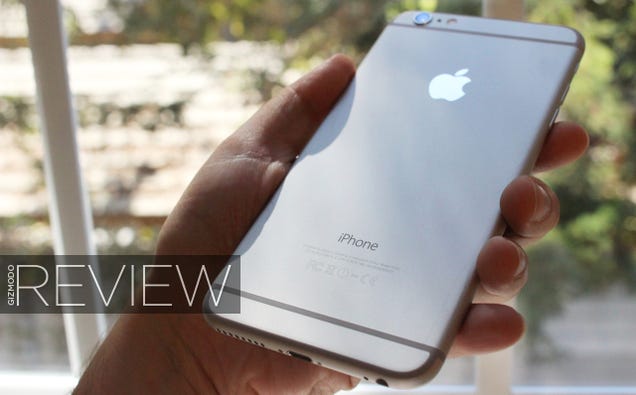 EXPAND
Six years ago, I sat on my girlfriend's couch, casually flipping her new iPhone 3G end over end. I was pondering why anyone would buy an iPhone over my clearly superior T-Mobile G1 handset. Yes, I was an Android nut, a former Sidekick owner who believed that smartphones should have physical keyboards and be held horizontally for maximum effect. In other words, I wanted a laptop that fit in my pocket, looks be damned. When I realized her iPhone couldn't even let me type comfortably — hands bunched around its tiny portrait keyboard — I eyed it with disdain.
But today's iPhone 6 Plus is nothing like the phone I rejected in 2008.
At a glorious 5.5 inches diagonal, Apple's giant new handset has practically everything a modern Android lover adores: a giant 1080p screen, a crazy-fast processor, an impressive camera, a battery that doesn't quit, and yes: a landscape keyboard. If you're already an Apple iPhone owner lusting after a Samsung Galaxy Note-sized screen, there's little question that you should buy an iPhone 6 Plus. But what if you're coming from Android? I decided to find out.
You know what, former self? There's a lot to love.
It's So Big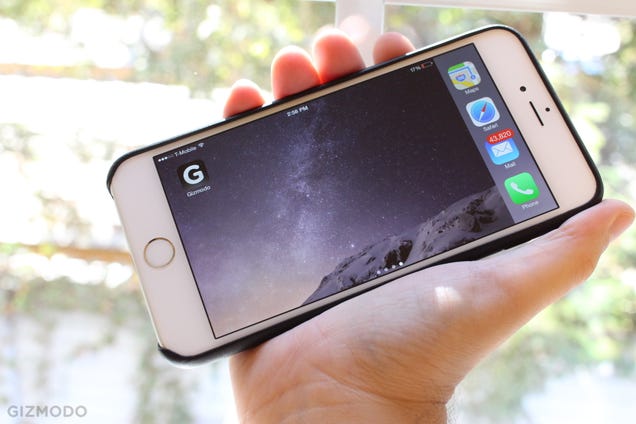 EXPAND
So let's get this out of the way: the iPhone 6 Plus is big. Not bigger than a Samsung Galaxy Note — though it is a tad taller — but definitely bigger than the LG G3, both of which have roughly the same size screen. More to the point, it's uncomfortably wide and tall for me. It's not particularly heavy at 6 ounces, and it's actually quite thin at 7.1mm thick, but you know what you get when you have a thin, wide, tall, expertly polished aluminum phone with beautifully rounded edges? It slips right out of your hands. Unlike the Note 3, with its grooved plastic edges and faux leather back, there's just no comfortable place for your fingers to grip.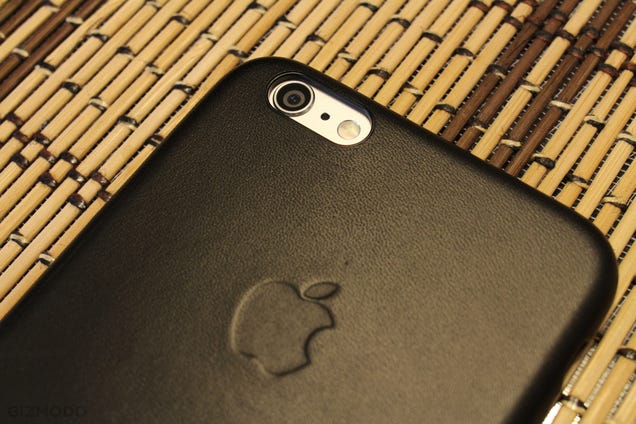 EXPAND
I already knew from my early hands-on experience that this would be a problem, so I came prepared: I ordered Apple's official $50 leather case so as to leave nothing to chance. Not only did it solve the grip issue, it protects my iPhone's protruding camera from scrapes. Honestly, buying a case is a simple enough solution, and the extreme thinness of the iPhone means the added thickness isn't a big deal. Still, every time a stranger asks to see my phone without the case, I get genuinely scared I'll break it. I'm the guy who never uses a case because I never drop my phone, and suddenly needing one is WEIRD.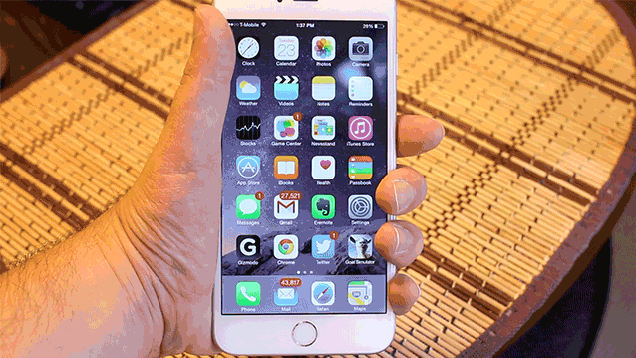 But you know what the case doesn't solve? Actually using this sucker with one hand. As the proud owner of a 4.7-inch original Moto X, I'm used to pulling a phone out of my pocket and getting things done with a single paw, but I quickly found the iPhone 6 Plus won't let me do that. I tried four different ways to grip the phone, but none of them let my thumb reach everything.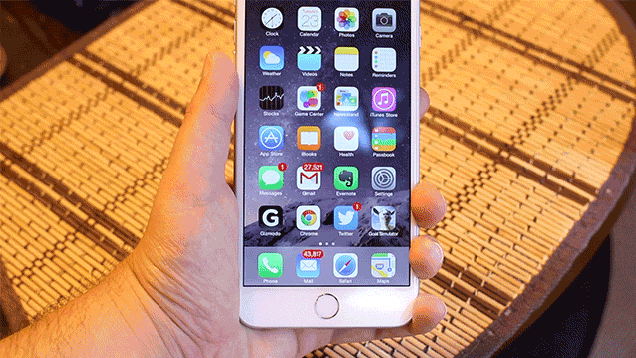 Apple actually includes an intriguing software tweak called Reachability that anticipates this very issue: you just double-tap the Touch ID sensor at the bottom of the phone, and everything on the top half of the screen basically kneels down to be closer to your hand. Fine in theory, but you know what? In order to hit that Touch ID button in the first place, you need to be holding the very bottom of the device, an extremely awkward position where most of the phone's weight is far above your grip. I had to stick out my little finger in the cocktail pinky position just to keep it from tipping back… and infuriatingly, I still couldn't reach everything from that compromised hand position.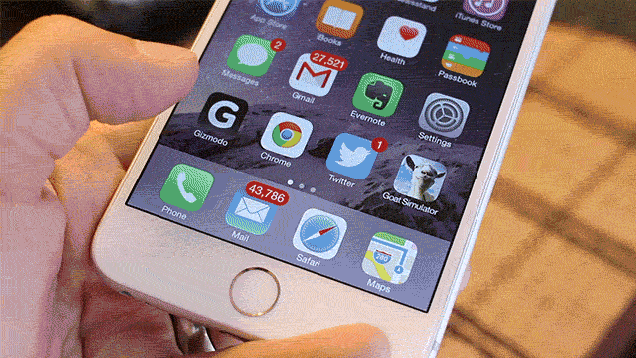 Even when I did successfully double-tap the Touch ID sensor and stretch my thumb way, way up to hit that Photos icon, the whole screen went back to normal again before I'd had a chance to pick out a video. And again once I'd picked out the video before I could actually hit play. It took me a total of six taps on that Touch ID sensor and three taps on icons to get a single video started with one hand. That's pathetic.
So you know what? I gave up. I started using two hands for everything.
How I Learned To Stop Worrying And Love The 5.5-inch Tablet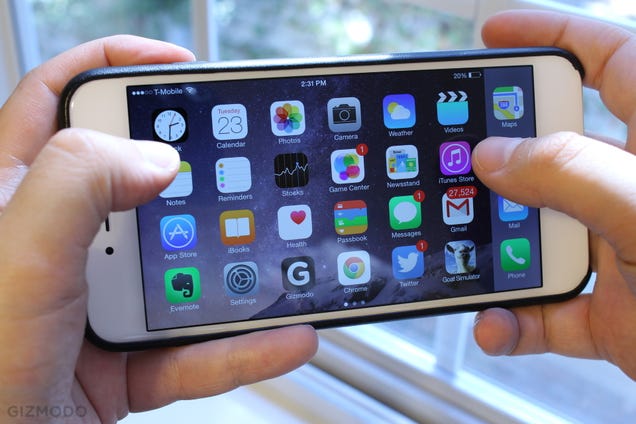 EXPAND
Once I'd accepted the iPhone 6 Plus was too cumbersome for me to use with one hand, things became so much easier. I started actually enjoying all the device had to offer, and I was genuinely surprised how easy it was to convert from Android.
So much of my life is in the cloud these days, and the cloud is easy to sync: Chrome bookmarks, Evernote documents, Dropbox files, my Netflix queue, and my Twitter and Facebook feeds were all just an app download and a login away. And hey, look, there's the LastPass app I need to help me remember those usernames and passwords. My contacts were automatically imported from my Google and Facebook accounts after a few simple prompts. Even Apple Maps wasn't as terrible as I feared.
And though practically every app bombarded me with permissions when I fired them up, I'm actually starting to think Apple's way makes sense. Not only do I know when apps are trying to take advantage of my precious smartphone's resources, but Apple's notification system works better for me as well. When I swipe down from the top of the screen, I see a neatly organized running history of all the things that need my attention, rather than a jam-packed notification bar.
The Gmail experience on iOS is definitely crappier, only part of which is due to the app needing to be updated for the iPhone 6 Plus's more pixel-dense display, but horror stories I'd heard about Gmail only notifying you about new email every 15 minutes were blissfully out of date. And though I haven't yet synced my Google Apps work calendar with the native iPhone calendar (the personal one was a breeze) I hear there are instructions on the internet. But I was too busy watching Netflix on the iPhone 6 Plus's incredible screen to care much about that.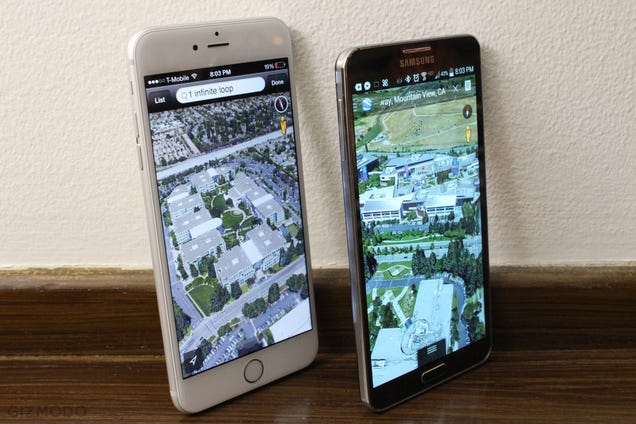 EXPAND
DisplayMate wasn't kidding when it said the iPhone 6 Plus has the best LCD screen it's ever tested: this 5.5-inch, 1080p IPS LCD display is terrific. I put it right up next to the 5.7-inch 1080p Super AMOLED screen in the Galaxy Note 3, and though the Samsung's blacks were a little deeper and colors were a little more vibrant (as one expects from OLED), the crispness of Apple's panel is insane. It reminds me of the first time I ever saw a retina iPad, except finally the aspect ratio is perfect for watching 1080p movies without crazy amounts of letterboxing. I don't have a Galaxy Note 4 for comparison, but I'm pretty sure I'm now holding the best miniature movie screen in the world.
It's just a damn shame that Apple hasn't gotten wise and put great speakers on the front of the device like the HTC One M8 and new Moto X: the iPhone's single driver is not only inadequate, it's far too easy to accidentally muffle when holding it up in bed.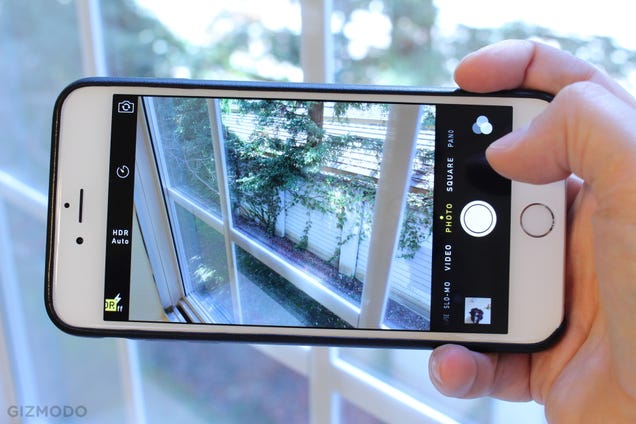 EXPAND
Then there's the camera. Oh lord, what a camera. In many ways, it's the best camera I've ever used. Not just the best smartphone camera, mind you, but the best, period. And before you fly into a photographer rage, my opinion has very little to do with image quality and everything to do with how you shoot.
With the iPhone 6 Plus, I don't need to think, I don't need to get lucky, I don't need to try over and over again to get great pictures and video thanks to an incredible combination of technologies. Apple's amazing 1080p screen acts as a fantastic viewfinder, showing me fine detail before I snap the shot. The Focus Pixels built into the camera's sensor lock onto my subject even in a dark room. Not only does the iPhone seem far smarter at setting white balance and exposure than my trusty Canon DSLR, but I can just swipe my finger up or down to change that exposure on the fly. If the shadows are too dark or the highlights too bright, HDR automatically kicks in to save my heinie.
To read the rest of the article, please follow this link: http://gizmodo.com/iphone-6-plus-review-the-best-tablet-ive-ever-used-1638638046?utm_campaign=socialflow_gizmodo_facebook&utm_source=gizmodo_facebook&utm_medium=socialflow